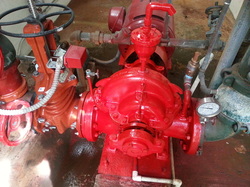 Imagine this – a Fire Marshall just visited your building, and informed you that your fire sprinklers, fire alarms, emergency lighting and/or fire
extinguishers no longer meet code and aren't certified to protect you during a fire emergency. You know have X days from now to get your fire protection systems up-to-code, and quickly find yourself rushing to find a fire protection company that will service your existing fire protection systems before the required date .
Often, many businesses experience the above scenario or they wait a few days before the fire marshall's visit to schedule their fire sprinkler inspection because they forgot they had to get their fire protection systems tested. It is difficult to remember when your company needs their next fire sprinkler inspection. Additionally, there are many fire safety codes, from
local to national fire safety requirements for fire protection system you need, that it becomes easy to forget when to schedule your next inspection. We provide Fire Sprinkler Services Opalocka, Fire Sprinkler Services Hollywood, Fire Sprinkler Services Miami Dade, Fire Sprinkler Services Palm Beach, Fire Sprinkler Services Broward, Fire Sprinkler Services Homestead, Fire Sprinkler Services Kendall.
Many fire protection companies today offer businesses service agreement contracts to help businesses remember when to inspect their fire sprinklers. The service agreements put fire protection companies in charge of reminding you when you need to schedule your next fire sprinkler, fire alarm, emergency lighting and fire extinguishers maintenance or inspection, keeping your fire systems always up-to-code.
Don't wait until the fire marshall tells you your fire sprinklers are outdated or incapable of keeping your work safe during a fire. Ask A fire PROFESSIONALS about what maintenance service contracts we offer to ensure your fire protection systems are always certified and ready.
We are a member of several American fire sprinkler associations to keep up with the constant changes in the industry.